Going Above and Beyond at Work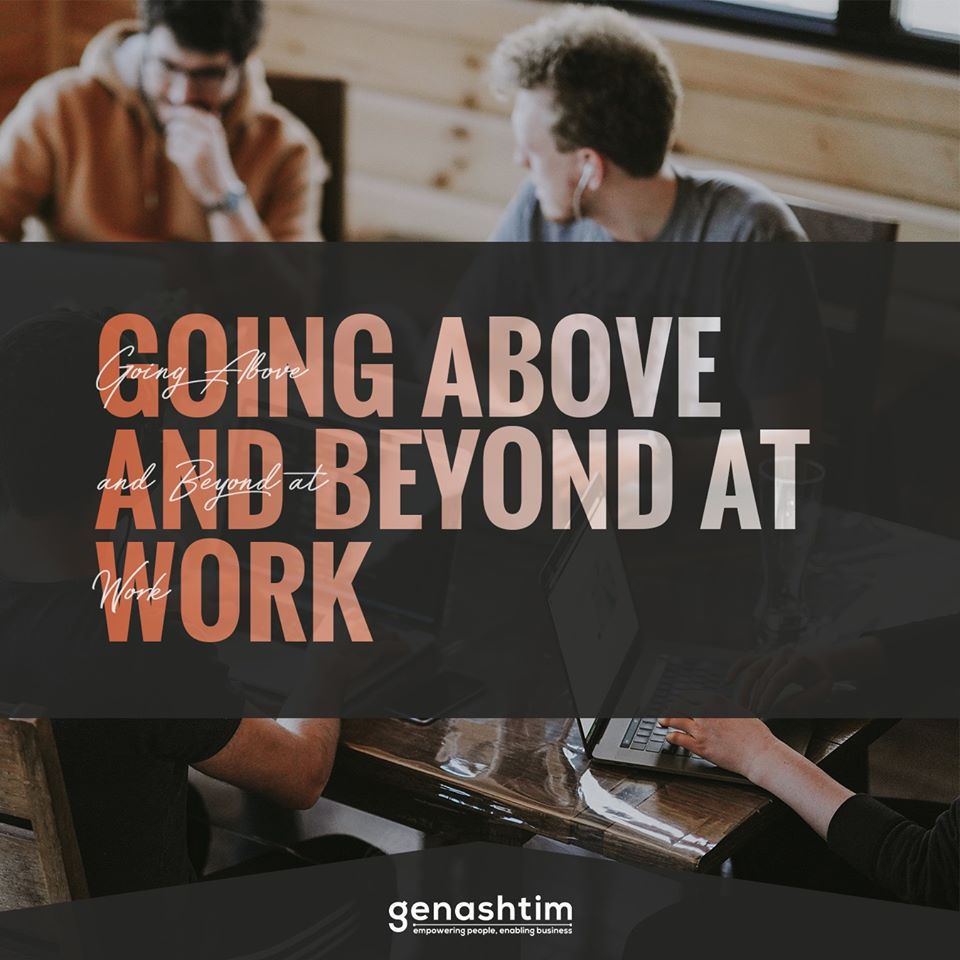 When we start a new job, we are all given a list of tasks that we are supposed to accomplish. Do you just stick to that and only do the bare minimum that is required of you or do you spend a long time at work and do tasks beyond your job scope and even without your manager's request? If your answer is yes, you are likely to be someone who goes above and beyond amongst your other colleagues!
However, going above and beyond doesn't simply mean working overtime or completing more tasks but rather exceeding the expectations or targets of clients and managers in terms of their time and budget. It is a value exchange, in the end, if you can complete a certain task before it's due, at a lower cost, or generate higher revenue by upholding high-quality output, you are an important asset to the company. Logically speaking, working extra hard after your clock-out time when everybody is paid the same may seem absurd, however, producing work output beyond expectations can provide the following results:
Excel during job hunting
Survive during downsizing or layoffs
Establish a good reputation and acquire self-fulfillment
If you think the three points above are exactly what you are seeking, the following mindsets would be crucial in your journey.
7 Important Mindsets To Go Above And Beyond At Work
1.  Goal oriented
Take a moment and ask yourself, why you are working and what you want to achieve in the next 5 to 10 years. Is it only for earning a living? Setting the right goal gives you a clear direction, keeps you focused, and allows self-assessment over time. More importantly, it provides a constant motivation to keep your momentum toward the goal. By integrating your career goal with your employer's, you have greater control of your career path which initiates the necessity of going above and beyond your job scope.
2.  Get out of your comfort zone
It is normal to be frustrated when you are trying to improve workflows and explore new markets but are constrained by limited skills and experience. Usually, an employee would just say "I don't know", pass the task to colleagues or even ignore it and continue the routine. However, if you want to achieve an above-and-beyond mentality, this kind of thinking is a big 'NO'. Instead, try your best to gather and acquire the knowledge needed, and come up with a brilliant solution that you can bring to the table. Always keep the mindset of life-long learning throughout your career growth. Equipping yourself with diverse skills and abilities helps you stand out in the workplace while keeping your career development agile, especially during the rapid technological revolution.
3.  See problems as opportunities
"Every problem is an opportunity in disguise."

– John Adams
Every successful business innovation shares a crucial characteristic – the ability to identify customers' problems and pain-point. Of course, it is not a simple task. Viewing a problem as trouble causes a stressful and tense situation at your workplace where people start blaming each other for the mistake. In contrast, if you consider it as an opportunity and brainstorm the best solutions, it may not only solve the issue a lot more smoothly but also increases your value as a level-headed problem solver for your clients and employers.
4.  Think according to the manager's and client's perspective
Imagine you are the manager or the client, will you be happy working with someone who is hardworking but is not sensitive to what you actually need, and just throws random information at you? Surely, it can get annoying. To go above and beyond, you need to understand the needs of the stakeholders from their point of view. Try to identify and foresee their needs before throwing a load of information for them to read on their own. For instance, if your manager is having a meeting with a company in a joint-venture project, you may think of which information he or she may require to ensure the meeting goes smoothly. The ability to remain alert and anticipate someone's needs will grant you extra merit in your career.
5.  Always think one step ahead
When you complete a task assigned by your manager, will you be done with it immediately and proceed with other tasks? Or you will stop and ensure there isn't anything further required? In most cases, employees are in a rush to move on to other projects and miss the concluding details of the current project. Therefore, there are ways you can outperform your colleagues while finalizing a project. Always stay one step ahead by asking yourself "what if" something happened? It helps the team to be prepared for any unexpected situation. By reinforcing this mindset, you will come up with a comprehensive backup or alternative plan when things go wrong.
6.  Stop making excuses
One must remember that our managers are working as hard if not twice as hard as us, providing them with excuses not only frustrates them but also wastes their time. Blaming other factors when they could have been avoided goes against the team spirit. Always keep in mind you are working with a team and your actions will affect everyone around you. A high-performing employee will not waste their energy by pointing fingers but will try their best to find solutions, and continuously challenge themselves to unlock their potential.
7.  Work smart
Last but not least, be sure you are putting in your extra effort the right way. But how do we know if it is 'right'? A general rule of thumb for assessing your productivity is to measure the outcome by how efficiently it is done. Longer working hours do not always mean more tasks are completed. It is totally fine to take a short break when you are overwhelmed or between a chunk of your working hour. The Pomodoro technique is one of the simple guides to start with. The idea is to break your workday into several intervals of 25 minutes, called Pomodoro, and a 15 to 20-minute break after four cycles of Pomodoro. You can also explore and utilize technological advancement including automation, machine learning, AI, etc. to complete your task efficiently and effortlessly.
Bonus
Excellent communication
Although not all employees with excellent communication are top performers, your journey to going above and beyond will be stunted if you do not have adequate verbal or written communication skills,. Mastering essential communication skills in the corporate world helps you deliver your ideas effectively. Even if you have a perfect proposal plan, the inability to present it in a compelling way to your bosses or clients, you might not get the expected result.
Wide connection
Growing a meaningful circle of professionals from various fields is a crucial part of your career even as an executive-level employee. Networking enables you to get updated market information, access to success or failure stories, and most importantly, it opens business opportunities and potential collaborations. Undeniably, it is an extra token for employees with a wider group of professionals in an organization.
Related: 4 Ways To Maintain Your Professional Network
The Limit
The question is – 'Is it worth it?' While everyone wants to be a 'superstar' in their careers, there is a catch. In the recent trend, the increasing competition in the workforce has resulted in employees going above and beyond, racing with each other to go the extra mile. According to WHO, the death from heart disease and stroke caused by long working hours rose by 29% in 2016 since 2000. Those who worked 55 hours and above per week are 35% more likely to suffer from stroke. This eventually leads to the emergence of the quiet quitting phenomenon, where employees no longer go above and beyond. The key here is to be aware of the limit by maintaining the work-life balance and taking a breather when necessary.