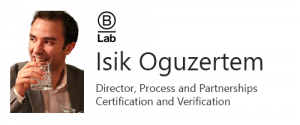 It's been just over a year since B Lab Global launched a partnership with Genashtim and today marks a very special first year anniversary! With this partnership, we've been able to grow our capacity and verify qualifying companies as B Corp. Last year, Genashtim's team of independent verification analysts started verifying micro-enterprises: some of the smallest but most enthusiastic applicants which were eager to join the movement. This dedicated team exceeded our expectations and quickly advanced to reviewing more complex companies with higher revenue streams. Below are Genashtim's accomplishments over the past year:
962 micro-enterprise companies certified
360 small enterprise companies certified
303 companies re-certified
172 pending Bs successfully completed
Additional 41 independent verification analysts from 10 countries have joined the team
Several analysts have been trained in additional services namely in background checks and evaluation
Since August, Genashtim analysts have started taking on the next tier of challenges – the "small-medium enterprises." We're planning for Genashtim to start verifying medium-sized companies in 2023 as well. We expect that the next year with Genashtim to be just as fruitful as the first. Independent verification analysts will play an increasingly central role in growing B Lab Global's capacity in 2023 and beyond. Genashtim analysts have already been instrumental in recommending process improvements, deepening our collective expertise, and showing opportunities to provide a great experience to companies waiting in queues. On behalf of the B Lab Global Certification and Verification team, we're looking forward to more work with external verifiers as we build this movement together. Please join me in congratulating the Genashtim team: here's to more years of success!