Thomas Ng Shares Genashtim's Journey on #SPDStories Feature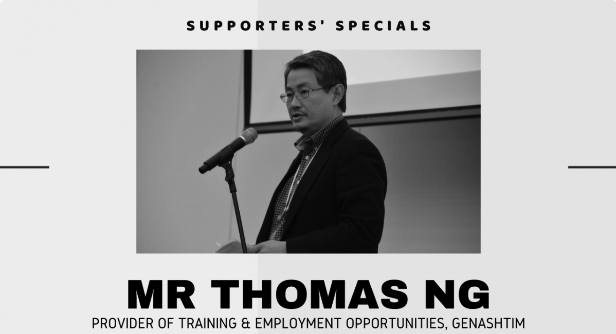 SPD's Senior Communications and Outreach Executive, Melissa Tan sat down with Thomas Ng for SPD's Supporters' Special feature to talk about Genashtim's humble beginnings. The interview progressed into how Thomas steered the company to extensively provide job opportunities to those sidetracked from the mainstream employment pool. 
"A journey of a thousand miles begins with a single step." This Chinese proverb implies that great things have simple beginnings – this befits Thomas Ng's endeavour of establishing Genashtim. 
Looking back, Thomas had a successful 25-year experience in corporate and regional senior management roles but he wanted to do more to help others.  This strong sense of compassion was influenced by his mother, so to be one of the Board of Trustees in a computer school for the blind in Manila is so expected of him. He noticed that regardless of the competitive computer and technological skills of the students, they had little to no employment opportunities. Thomas felt compelled to address this predicament so he established Genashtim and employed these skilled visually impaired persons (VIPs). Subsequently, people with all sorts of disabilities joined the ranks and the company grew substantially. Thomas' dream to raise the standard of living for the marginalised is now a reality. 
Genashtim is not a charity – Thomas makes no bones about it. It is a serious for-profit organisation where an employee work performance is evaluated. Thomas is keen on creating a sustainable, scalable, and meaningful business model — that is Genashtim. By providing job opportunities for persons with disabilities (PWDs), Thomas believes in the restoration of their dignity, paving the way for economic independence. 
Thomas is in awe of the resilience, resourcefulness, and willpower of his colleagues as they manage to work with so much passion and dedication. Seeing them live comfortable lives where they can splurge and support themselves and their families financially is his greatest aspiration.  
Conclusively, Thomas is certain that there can be a transformation for the Environment, Social Impact, and Governance (ESG) if only our perspective is for the greater good.   
Read the full interview here.