Genashtim is B Lab's Best for the World yet Again!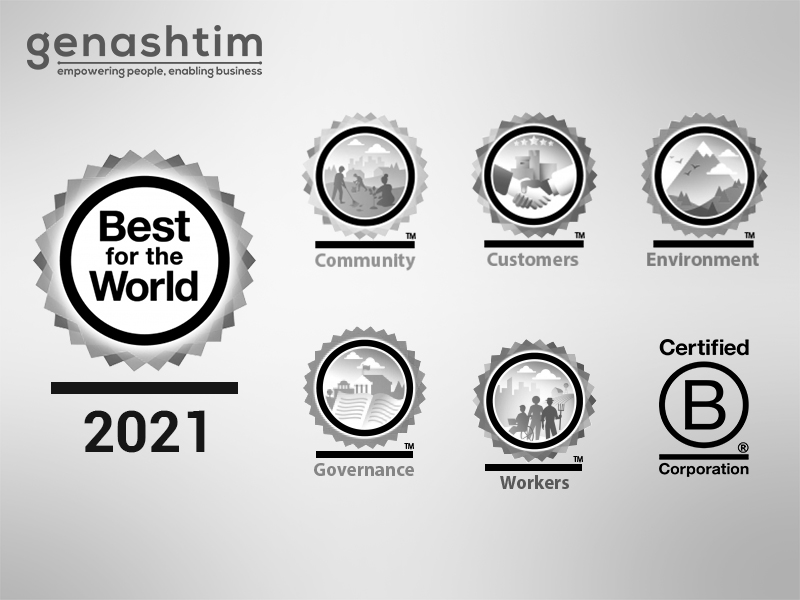 B Lab assesses the B Corp companies that are making the biggest social impact via the B Impact Assessment (BIA). The assessment is an annual endeavour in which B Corps that score the highest in the BIA are named "Best for the World." This year, 2021, it saw Genashtim being recognised as Best for the World, having emerged triumphant in the rigorous assessment which was divided into five impact areas – community, customers, environment, governance, and workers. Genashtim has been making this feat every year since its B Corp certification in 2015.
As a B Corp Certified Business, Genashtim has excelled in sustainable business practices and was accorded recognition as two entities in two categories. Genashtim Sdn Bhd (GSB) was named "Best for the World" in the "Workers" Category while Genashtim Innovative Learning (GIL) earned "Best in the World" title in the "Community" Category.
Genashtim Sdn Bhd hires people who were side-lined by mainstream society. People with disabilities (PWDs), seniors, refugees, and LGBTQAI members are often unable to find sustainable employment. Genashtim took upon itself to hire those individuals and give them the opportunity they were deprived of. Since the company pioneered in remote work, all staff members work from the comfort, convenience, and safety of their homes. GSB contribution to the employment and training of people from marginalised groups gave way to it receiving the "Best for the World" in the "Workers Category." GSB was certified B Corp only this year. Yet it made it for the "Best for the World" title.
Genashtim Innovative Learning provides training for its employees and coaches Malaysian undergraduates in English proficiency to improve their employability. GIL does this by using its own in-house, curated eLearning solutions while offering other online support services. The company has trained PWDs under Yayasan Hasanah in late 2020 and early 2021. Since Genashtim actively gives back to the community and ensures societal well-being, it was recognised as one the "Best for the World" in the "Community" Category.
With GSB and GIL being recognised as Best for the World, Genashtim is probably alone in having 2 Best for the World companies.
This recognition from B Lab will serve as an impetus for Genashtim to make greater strides to not only be the best in the world but also in the upcoming years, benefitting people and the planet while profiteering.
View the mention of Genashtim as the Best for the World here.