50 OKU/PWD Benefitted from Genashtim's Training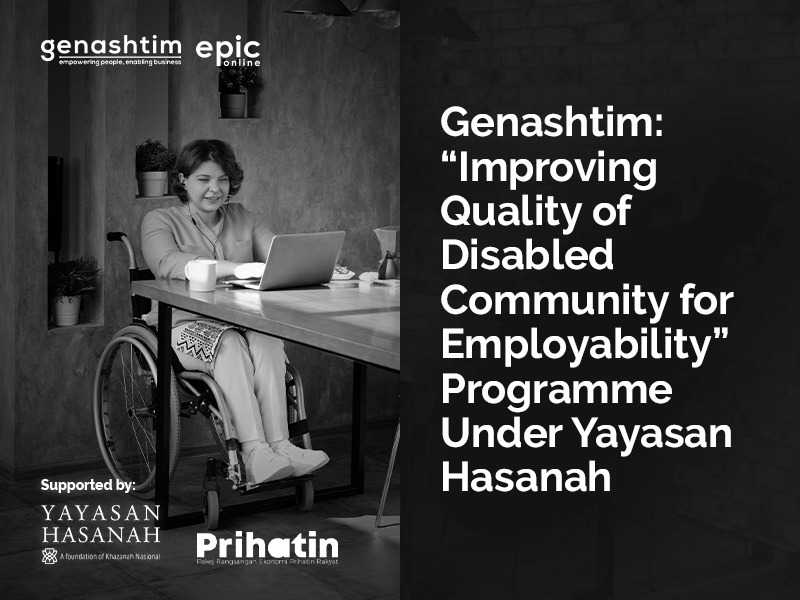 Yayasan Hasanah, a foundation of Khazanah Nasional, ran a project to enhance English and computer literacy skills for OKU (Orang Kurang Upaya) or PWDs (Persons with Disabilities) so that they may broaden their options for employment. Genashtim was awarded the grant to organise the training under the programme "Improving Quality of Disabled Community for Employability" from October 2020 to January 2021.
There was an enthusiastic response for this training as they received over 100 applications, but they were only able to accommodate 50 participants. The chosen trainees ranged in age, impairments, and disabilities, but they all have one goal in mind: to gain greater economic freedom.
The training was split into 3 parts using an academic approach: one-on-one live sessions, self-learning, and group study. Each offered a distinct benefit for the students to experience in their learning. Genashtim's in-house curated training courses, EPiC Online and Virtual Office Training (VOT), were used to train the participants. A variety of exercises were planned, and coaches were on hand to coach participants during the training session.
Prior to the training, there were language barriers and technical knowledge limitations. The trainees cannot fully express themselves in English and the only technologically advanced object they know is a smartphone. However, after the coaching sessions, drills, and practices, the participants were more than eager and confident in using their newfound skillset that will not only help themselves but also greatly benefit their families.
Just like a normal class, there's always a story to tell like the experience of Nor Haswani, who has a genetic disorder that restricts her body movements. She had to endure the agony of commuting to work as a desk clerk. But now, as she landed a job at Genashtim as a management trainee, she has the convenience and security to work from her own home.
The other nine who were hired by Genashtim are: Loo Shao Chuo, Joan Lai Kah Tze, Bernard Nathan, Sasinthiran Chandran, Nur Syazalina, Basri bin Husin, Mazrina Binti Mahat, Thirilosani d/o Ponvel, and Nurul Syafiqah binti Johari.
This educational outreach by Yayasan Hasanah was both highly successful and a rewarding experience for the OKU. Genashtim is happy and proud to have been a part of it and wishes all the new recruits the very best by utilising their skills to work sustainably and be connected to the global economy.
Watch Haswani's video testimonial here.
This project is supported by YH and MOF under the HSG 2020.