Genashtim's Roldan Never Stops Making Strides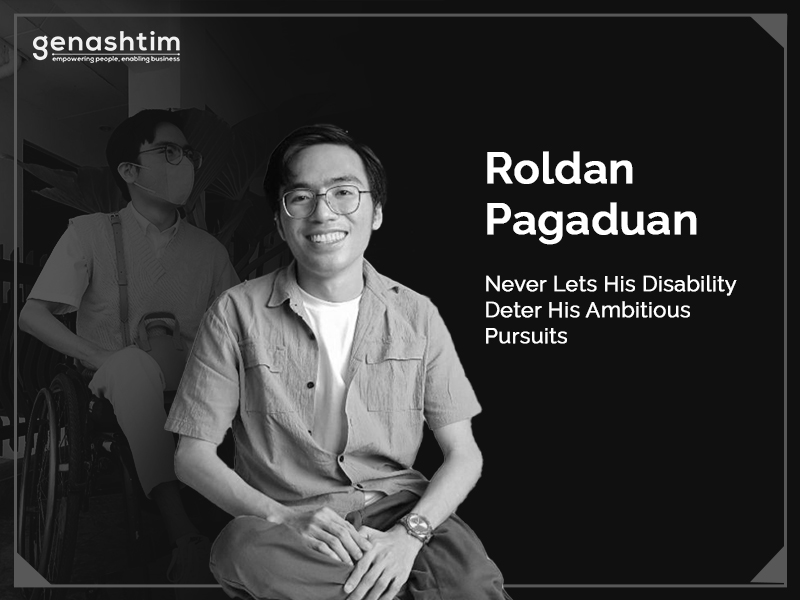 Even as a wheelchair user, Roldan Pagaduan never let his disability come in the way of his childhood aspiration to work in a field that provides services to people from underprivileged communities. With that aspiration, Roldan pursued an undergraduate degree in elementary education and completed it in 2017.
However, finding a teaching position proved to be a challenge for Roldan due to his disability. Unperturbed, he further consolidated his academic repertoire to vie for better employment prospects by taking the Board Licensure Examination for Professional Teachers which he passed on his first attempt.
Armed with a professional license to teach, Roldan was certain that he will land a teaching position at a school and thrive in his profession. However, Roldan's optimism and newfound qualification were met with further disappointments – he was discriminated against by most school administrators who feared that his disability would affect his efficiency.
The experience left Roldan embittered about his country's lack of opportunities for PWDs. Nevertheless, he continued finding ways to earn a living. In 2021, he came across a job posting from Genashtim on Facebook looking for HR staff. Roldan submitted his application and was called for an interview several days later. He didn't pass the interview for the HR position.
Roldan's failure to get the HR job was a cloud with a silver lining as Vicky, an HR staff at Genashtim contacted him the next day, informing him that the Language Department's People's Manager, Nancy Ong had seen his résumé and work experience and would like to speak with him. Following the invitation, Roldan attended a virtual interview with Nancy. He was offered a position as a Learning Content Developer at the end of the interview, which he accepted right away.
Roldan has been with Genashtim for over a year now and he has received tremendous support from the company and his co-workers which helped him regain his confidence. The company also provided Roldan with the means to not only be financially independent but also opportunities to upskill. Roldan's renewed self-assurance made him summon the courage to pursue his master's degree in Distance Education at the University of the Philippines Open University while working full-time at Genashtim."
He is deeply grateful to the Founder and CEO of Genashtim, Thomas Ng, for seeing the potential in PWDs and creating employment opportunities so they can be productive, dignified, and financially independent.