Genashtim Bags B Lab Award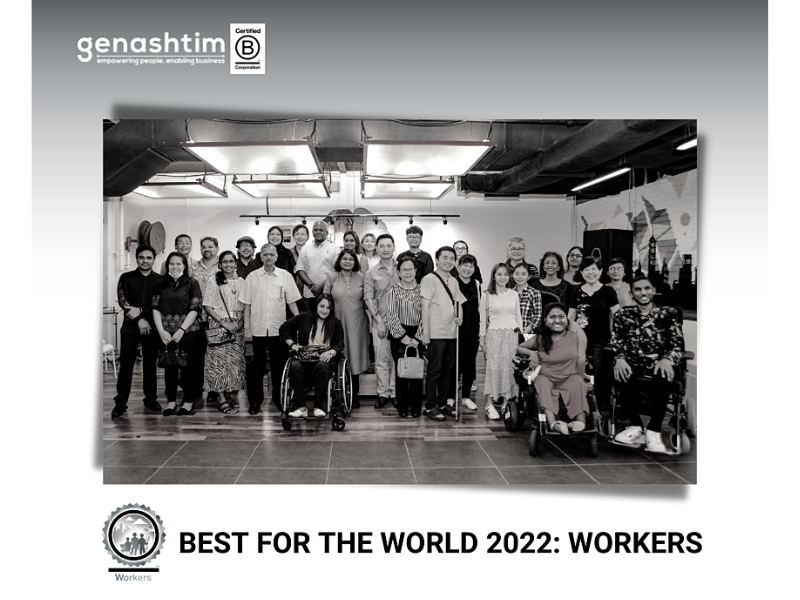 Genashtim has been listed in B Lab's Best for the World 2022 award on 12 July 2022. This recognition is awarded to the top-performing B Corps that have made significant impacts in five areas – community, customers, environment, governance, and workers. Genashtim has achieved this recognition every year since 2015. This year, Genashtim accumulated an exceptional score in the "Workers" impact area.
When it was established in 2008, Genashtim hired visually impaired persons (VIPs) from a blind school in Manila, Philippines. Today, 60% of Genashtim's workforce is made up of People with Disabilities (PWDs) from ten countries. Some of these employees are severely disabled but able to perform no less than their able-bodied co-workers.
As a for-profit social enterprise, Genashtim progressively taps into the "forgotten workforce." This forgotten workforce comprises of individuals who are generally considered unemployable due to the lack of access to the workplace, stigma, and stereotyping. Armed with an innovative remote-working model, Genashtim hires PWDs, refugees, senior citizens, members of the LGBTQIA community, and women from oppressed environments. In addition, Genashtim is currently taking steps to recruit ex-convicts, lepers, and people living with HIV (PLHIV) in the future. This is in line with its mission to leverage technology and connect more of the marginalized to the global economy. Genashtim's remote working model has proven to effectively break barriers, bridge differences, promote diversity and inclusion, and deliver peak work performance through its employees.
Genashtim works to not only provide sustainable and gainful employment opportunities for marginalized individuals but also upskills and reskills them. The organization's remote working model has proven to be pandemic-proof and highly viable – staff members who cannot access the workplace due to the lack of accommodating public transportation and facilities such as ramps work from the comfort and convenience of their homes. The flexible remote work arrangement allows the company's PWD employees to manage their working hours and output. These innovative efforts and organizational support speak volumes about Genashtim's commitment towards its employees' professional development and well-being.
The recognition from B Lab brings a sense of accomplishment to Genashtim. The award acts as added motivation to maximize the company's efforts to tap into additional talents from the forgotten workforce. It will also consolidate the awareness for businesses that benefiting people and the planet is as important as making profit.
Genashtim hopes that its efforts towards building employee diversity and inclusion will be further strengthened as it believes that any individual under any circumstance can thrive given a chance at employment in a workplace with good work methodology and organizational support,
View the mention of Genashtim as the Best for the World here.