Genashtim Commemorates SBF Anniversary Celebration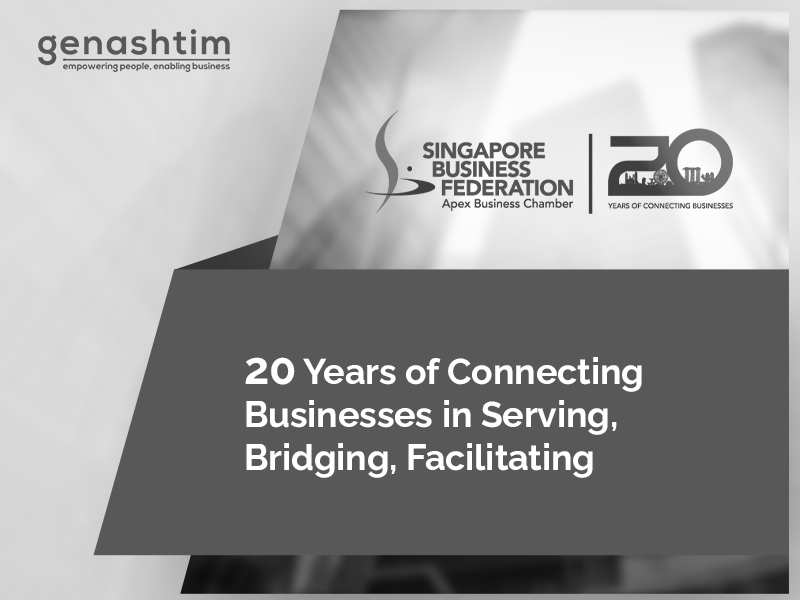 The Singapore Business Federation (SBF) recently held its 20th Anniversary Celebration on 22-25 June 2022 at the Marina Bay Sands, Singapore. The celebration, themed '20 years of Connecting Businesses in Serving, Bridging, Facilitating', commemorates its 20 years of championing the interests of the business community in the areas of trade, investment, and industrial relations both locally and overseas. SBF looks forward to continuing its role as Bridge, Facilitator and Enabler in the Singapore business ecosystem.
This anniversary also marked SBF's commitment to continue to do everything possible to assist the local business community in navigating challenges and reaching new heights. There are new opportunities for growth even as challenges abound in businesses having borne the brunt of the Covid-19 pandemic and are now dealing with issues such as rising business costs and labor shortages.
The two new opportunities for growth in any industry are to embrace new technologies and digitalization, and sustainability. During the Covid-19 pandemic, many businesses jumped on the digitalization bandwagon, and remote working became the norm. SBF has then made a significant effort to encourage digitalization among Singapore businesses.
Established on 1 April 2002, SBF is the apex business chamber championing the interests of the Singapore business community. With more than 27,000 member companies, its membership comprised key local and foreign trade associations and business chambers. SBF serves three key roles that are essential for business improvement and expansion, specifically as:
Bridge: to connect the business community, associations, and the government to promote a better understanding of business concerns.
Facilitator: to support businesses in their growth journey through internationalization, transformation, and enhancing jobs and skills.
Enabler: to deepen collaborations within the business ecosystem across value chains and among diverse stakeholders to increase the competitiveness of its business and drive win-win outcomes.
As a supporting business partner over the years, Genashtim on behalf of our CEO and Founder Thomas Ng, gave a testimonial to SBF. Thomas said, "We have participated in various workshops and briefings organized by SBF over the years and found them very useful. In particular, SBF's Career Conversation Programme for Internationalization (CCP-I) and SGUnited Programmes have helped us in our manpower needs and the reskilling of our staff for expansion into the region and internationally. Likewise, the sustainability programmes have helped us understand the importance of incorporating ESG in our business, thus preparing us for future risks and to stay competitive."
Happy Anniversary SBF! Together, we will continue to thrive in the business community, provide better jobs, and achieve sustainability in society and the country!
Read more here: BT – SBF 20 Anniversary