Genashtim Bags 2021 APSIPA Award for Inclusive Business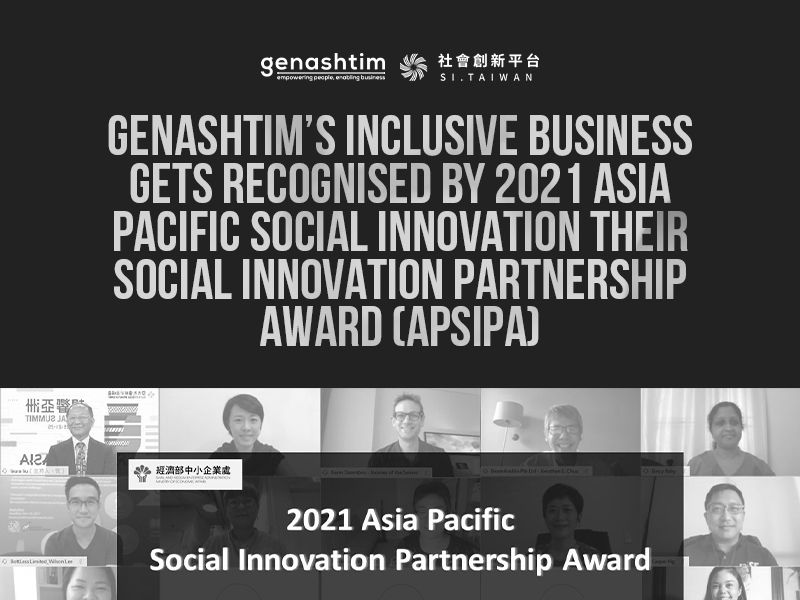 Genashtim was bestowed the 2021 Asia Pacific Social Innovation Partnership Award (APSIPA) in the "Inclusive Business" category. This win brings great pride to the company as the organisation firmly believes that businesses being a force for good, that is, for the people and the planet also benefits its own.
As a for-profit social enterprise, Genashtim has been striving to connect the marginalised communities to the global economy by providing them with sustainable employment. Over 60% of Genashtim's staff are Persons with Disabilities (PWDs). Genashtim also provides job opportunities for refugees, LGBTQAI members, and retired personnel. Dialogues about employing the leper community, women from oppressed environments, HIV-positive people, and convicts are on-going. Genashtim is consistent with its efforts to become more inclusive as the business flourishes.
Genashtim does not only immerse itself in the Triple Bottom-line (TBL) — people, planet, and profit but has also grown more attentive to emerging needs, challenges, and changes. The company will continue to create a more equitable, equal, sustainable, scalable, and wholesome society that can empower the disempowered. Recognition like APSIPA certainly drives Genashtim to endeavour more on its social purpose as a business.
Watch the full video
here.