Famous Philippine TV Program Features Genashtim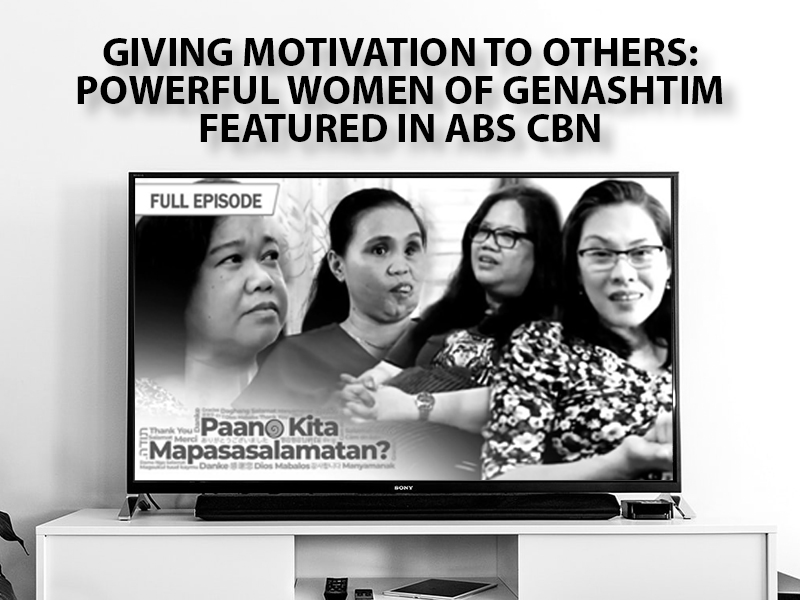 In ABS CBN's show called "Paano Kita Mapasasalamatan," three of Genashtim's amazing women were featured in their 41st episode. Hosted by Judy Ann Santos-Agoncillo, it showcased four women who were driven to reach their goals to prove that their disabilities do not define who they are. They shared how they bounced back from their struggles. With their experiences, they want to break the stigma of PWDs, that their disabilities do not mean inability but instead it paved the way for them to help others.
DG Bridge's Executive Assistant, Mariecell Fornis-Esguerrra was the second featured woman in the episode as her friend, Hope, wanted to express her gratitude to Mariecell. Through Mariecells's help, Hope was able to fulfill her desire to work abroad and build a house.
The episode proceeded to feature Mariecell's life experience. Her family met a tragic vehicular accident which left her blind. However, in Genashtim, she met her husband, with whom she now has a daughter with. She also met a true friend in the person of Vicky Suarez, the HR and Recruitment officer whom she built a friendship with her over the decade they've known each other.
Vicky was the third feature of the episode where she related her story particularly her mom's upbringing that gave her a sense of independence that led her to work overseas where she went through a near death accident that caused her immobility from the waist down. Instead of burying herself in self-pity, she pursued a career and got a job in Genashtim through Leigh, who proved to Vicky that their disabilities do not define them.
Leigh McIntyre, on the other hand, is a polio survivor who regardless of the painful branding of someone about her chose to disprove that allegation and made herself worthy. Leigh has that strength because her father's words held on to her and never considered herself different.
The episode ended with a statement from Judy Ann saying, "The true disability is the lack of understanding, being judgmental, and having no respect for others."
These powerful women who has been through so much never faltered in helping other people who are going through challenges, motivating them to move past it. We need to see PWDs as people and recognise their skills and value.
See full video here.