Genashtim Participates in the GRI Expert Series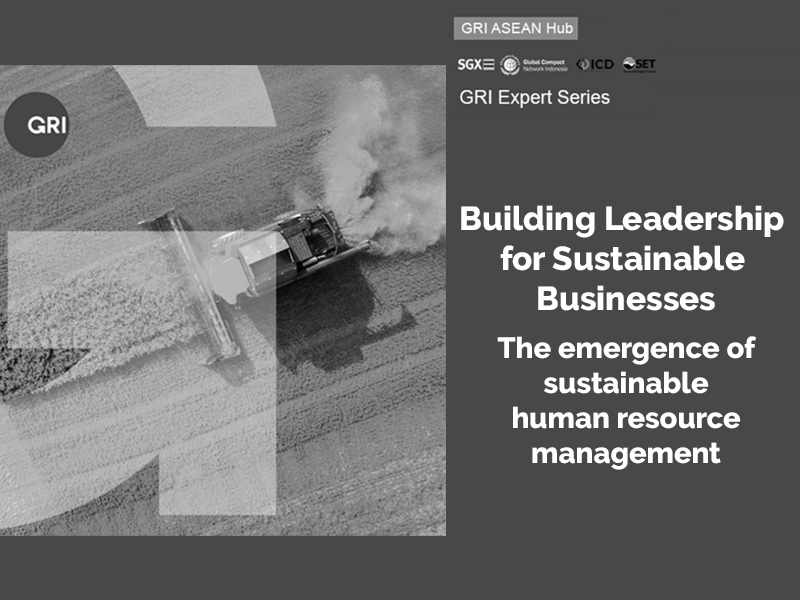 Singapore, 21 January 2022 – On 19 January 2022, the GRI Experts successfully held its 4th Webinar, on "The Emergence of Sustainable Human Resource Management". The esteemed panelists focused on sharing their thoughts on the essential role of Human Resource (HR) Management in incorporating sustainability into corporate strategies, particularly in developing sustainability knowledge and skills among the employees and fostering a sustainable culture throughout the organisation.
The GRI Expert Series spotlights key organisational executives to discuss their critical roles, as well as recent trends and developments in their fields, all of which relate to successfully driving their companies toward sustainable business growth while also contributing to the United Nations' Sustainable Development Goals.
Among the distinguished panelists of this seminar was Genashtim's Founder and CEO, Thomas Ng, alongside Elaine Cohen (Managing Director, Beyond Business) and Maya Juwita (Executive Director).
It was an excellent opportunity for Genashtim to share their experiences in increasing the knowledge and skills about sustainability among their employees, as well as promoting a sustainable culture throughout the company. Since 2008, Genashtim has been committed in providing sustainable gainful employment through leveraging technology and the internet to connect marginalised communities to the global economy, starting with the Persons with Disabilities (PWDs). Today, the employees of Genashtim are PWDs, refugees, retirees, ex-convicts, and women in oppressed environments, and all are working 100% remotely. Genashtim's remote workers hail from different countries and time zones, enabling them to successfully serve their customers from all over the world.
As a for-profit social organisation, Genashtim exerts every effort to provide their remote workers with a comprehensive experience as full-time employees and a sense of belonging to the company, including competitive pay and benefits. This clearly demonstrates Genashtim's commitment to diversity, inclusivity, and the long-term sustainability of people, planet, and business.
Genashtim's wholly cloud-based operations, eLearning and digital support services reduce resource usage and emissions, allowing them to operate with a very low carbon footprint. It also provides a safe working environment for their employees, enabling them to improve their quality of life while also assisting them financially. In the beginning, it was challenging to promote e-learning and deliver digital support services with 100% remote workers. But with COVID-19, just like a blessing in disguise, Genashtim has suddenly become mainstream. In the recent years, Genashtim was able to successfully develop their ESG services.
The GRI Experts webinar session was attended by 52 participants from around the world such as France, Germany, Melbourne, Indonesia, and other countries in Asia. A polling session for the attendees was conducted, with the following results:
46% of participants agreed that the CEO should be responsible for the organization's long-term sustainability.
88% of participants chose the concept of sustainable human resources management as contributing to the growth of employees' skills, value, and trust; as well as increasing their involvement in long-term development.
100% of participants agreed that HR should play a role in advancing corporate sustainability by developing talent management policies that correspond with corporate sustainability goals (e.g., women's empowerment, diversity, and inclusion).