SHATTERING STEREOTYPES: EMBRACING THE POWER OF DISABILITY WITH GENASHTIM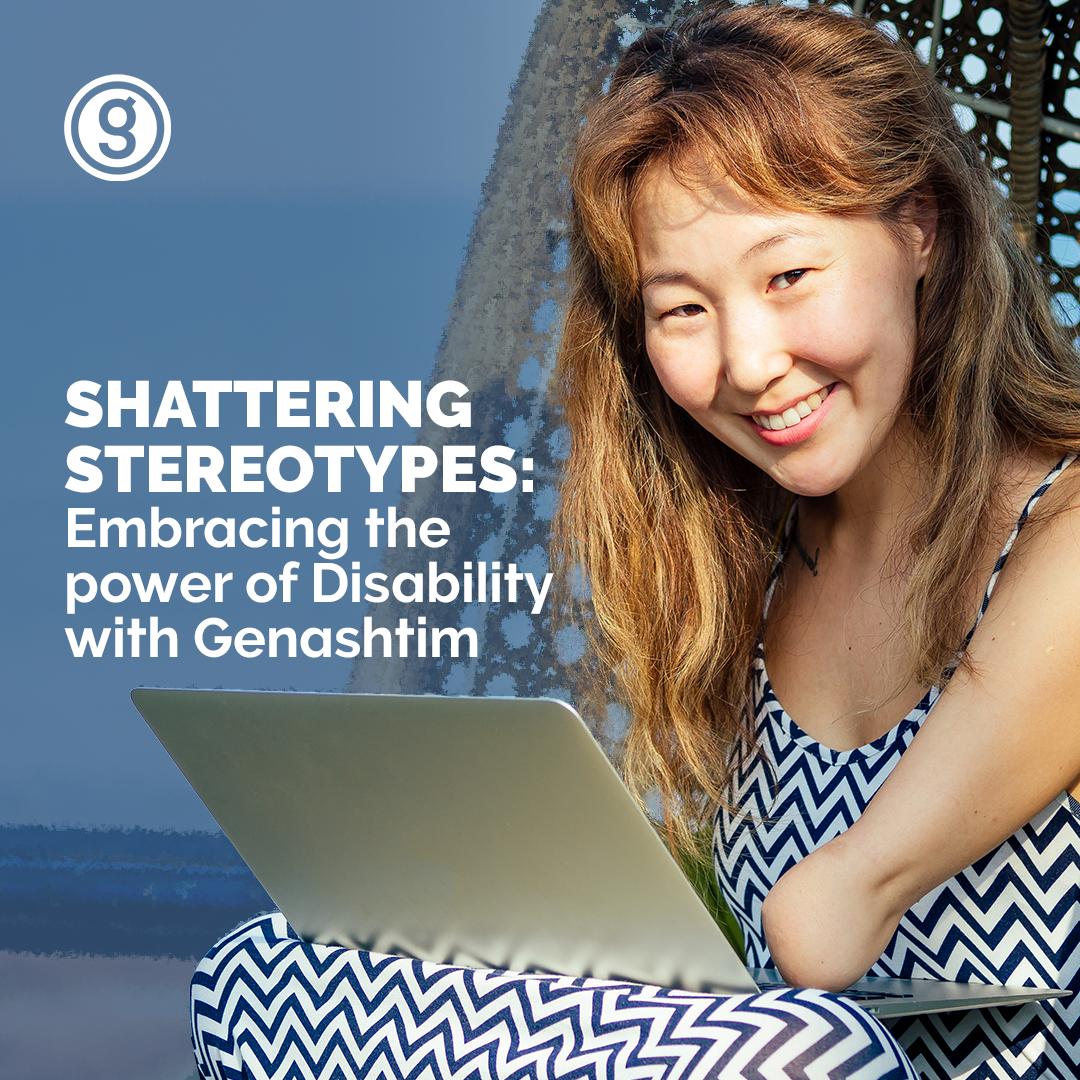 How Genashtim redefined my perspective on PWDS and inspired a commitment to diversity and inclusivity. 
Consider this scenario, you are getting interviewed for a job by a delightful HR representative and everything goes smoothly and perfectly. The interviewer is efficient and professional and handles the whole hiring and onboarding process flawlessly. However, if you are someone who has the same upbringing as me, you would have joined me in my surprise when I found out months later that the HR person who handled my recruitment was completely blind. I was stunned as well as ashamed of my unconscious bias towards disabled people.  
In a world that often measures success in terms of physical and mental abilities, we tend to overlook the incredible potential that resides within the human spirit, regardless of its perceived limitations. We weave preconceived stories and narratives based on our personal judgments which perpetuate a cycle of prejudice that has plagued our society for far too long. However, when I got hired by Genashtim, I had little to no notion that this opportunity would lead me to a transformative journey. I discovered a world where these harmful preconceptions were challenged, and as a result, my perspectives on disabilities were profoundly altered. 
Ableism and Our Unconscious Bias 
The deeply ingrained prejudice against people with disabilities is referred to as ableism. The world is built to cater to the needs of the strong and powerful which makes it inherently ableist. As physically abled individuals, we tend to miss small and subtle ableism around us which in contrast is a cause of major struggle for people with disabilities. Examples of such instants include:  
Having inaccessible venues for meetings or events which results in the exclusion of some participants.

 

Making media/video that doesn't have an audio description or closed captioning.

 

Using the accessible bathroom stall when you can use the non-accessible stall without pain or risk of injury.

 

Talking to a person with a disability like they are a child, talking about them instead of directly to them, or speaking for them.

 

Asking invasive questions about the medical history or personal life of someone with a disability.

 

Assuming people must have a visible disability to qualify as disabled.

 

In a world that caters only to able-bodied individuals, a common thread that binds us all is the tendency to view people with disabilities through a lens clouded by misconceptions, biases, and outdated stereotypes. Society's collective gaze often falls upon what a person with a disability cannot do, rather than on the vast array of talents, skills they can perform brilliantly, and the extent of untapped potential they bring to the table. These harmful misconceptions can distort the sense of the humanity of persons with disabilities by stifling their voices and overshadowing their dreams. 
Remote Work: Empowering People with Disabilities
The COVID-19 pandemic, an unexpected global disruptor, ushered in the rapid rise of remote work. This paradigm shift not only allowed businesses to adapt to the new normal but also presented a unique opportunity for society as a whole. In embracing remote work, we were compelled to cast aside the preconceived notions about physical and cognitive differences. It became evident that the abilities, passions, and aspirations of every individual were not bound by their physical presence in a traditional office. Instead, it was the content of one's character, skills, and potential that truly mattered, and remote work offered an equal playing field for all, regardless of their unique attributes. 
Genashtim is one of the pioneers of remote work in Southeast Asia. A social enterprise established in 2008, Genashtim's mission is to leverage technology to facilitate disadvantaged individuals to gain access to the global market. The disadvantaged groups employed by Genashtim mainly comprise people with disabilities but also include women in oppressed environments, senior citizens, LGBTQAI+, refugees, and other underprivileged individuals. Long before the pandemic, this company not only established remote work as a viable work arrangement but also reaffirmed that people with disabilities can perform with remarkable efficiency when provided with the right opportunities. 
How Genashtim Altered My Perspective on Disability
I heard from a friend about a company that hires disadvantaged individuals who have little to no employment opportunities elsewhere. Being part of a targeted community, I was told that there are members of our community who are living as refugees and working for the company called Genashtim as they are not allowed to work in their host countries.  
At the time I was going through a divorce, and living with my brother while the prevailing law and order conditions made it impossible for me to secure suitable employment to support myself. Upon hearing about this remote company, I applied for a job with no hope of hearing back from them. To my surprise, I got an email to arrange for a pre-interview and after a couple of online interviews, I was hired.  
Joining Genashtim was a completely foreign experience for me as I had never worked remotely before and I had never seen such a diverse range of co-workers. What amazed me the most after joining the company was when I slowly started to get to know my co-workers and managers and their disabilities. I was in awe of how efficient they all were regardless of their physical limitations. Each time I learned a colleague had some kind of disability, I felt ashamed of myself for being part of that population who believed in the literal meaning of disability as "not being able to do things". However, the more I got to know my coworkers, the more I realized how wrong my perception was.  
As mentioned before, the amazing lady who interviewed me and also the manager I work for both happened to be visually impaired. Two colleagues in my department are wheelchair users. These are just a few of the examples of awe-inspiring and resilient PWDS I have met while working for Genashtim. I also learned up until 2019, Genashtim's 90% employees comprised of PWDS, which now comprises 70% as Genashtim has started hiring other disadvantaged individuals. Witnessing such a vast range of talent and capabilities not only compelled me to examine my own unconscious biases but also helped me to start appreciating the people I work with.  
Working alongside individuals with disabilities has been a transformative experience, opening my eyes to the subtle, often unnoticed discrimination and accessibility barriers that pervade our society. For example, wherever I go now, I automatically notice if they have wheelchair access or not. Sadly, I also do not fail to notice that in many places, ramps have just been added as an afterthought and are not user-friendly as they are either too steep or too slippery.  This is another indication of our society's subtle discrimination against PWDs. This brought to mind the book "A Man Called Ove," in which the protagonist, Ove, had to battle the school administration on behalf of his disabled wife, who had become disabled after a bus accident. It serves as a poignant example of how many workplaces primarily cater to able-bodied employees, often overlooking the essential aspect of accessibility for individuals with disabilities. 
After two years of forging connections with my colleagues, I have become acutely aware of the challenges they face daily, from inaccessible public spaces to the hurdles of navigating a digital world that often overlooks their needs. This newfound awareness has sparked a profound change within me, igniting a fire of compassion and understanding. It has made me look at things while keeping PWDS in mind. For instance, if we are developing a product, the question I ask myself is — "Will this be accessible to a visually- or hearing-impaired person?" I have come to realize that with the right opportunities and accommodations, people with disabilities are more than capable of excelling in their roles and performing tasks and jobs just as effectively as anyone else.  
In Conclusion
Genashtim stands as a powerful reminder that when opportunities are extended to disadvantaged groups, they have the potential to make a profound impact on the global stage. Genashtim, as a representative of B Lab and a key player in ESG initiatives across Southeast Asia, sets a remarkable example with its Management team. More than half of its members are individuals with disabilities, while the remaining half come from various other disadvantaged backgrounds. 
My journey at Genashtim has profoundly reshaped my outlook, revealing the extraordinary potential that people with disabilities possess when given the right opportunities. Working alongside my remarkable colleagues, many of whom live with disabilities, has shattered my unconscious biases. Their unwavering efficiency and abilities challenged my preconceived notions and ignited a newfound sense of compassion and understanding. 
I've become acutely aware of the daily challenges PWDs face in an inaccessible world, be it in public places, workplaces, or even digital spaces. This transformation has not only changed the way I perceive disability but also inspired me to advocate for a more inclusive and accessible world. It's a reminder that true success lies in embracing diversity and valuing every individual, regardless of their abilities. 
To sum it all up, by providing people with disabilities opportunities to thrive and participate fully in society, we can break down the barriers of prejudice and ableism that have limited their potential for far too long. 
Disclaimer: Faryal Batool is a Content Writer at Genashtim. The views expressed in this publication are solely the opinions of the author and do not represent those of Genashtim, its subsidiaries, and affiliates.