THE RIPPLE EFFECT OF COMPASSION: GENASHTIM'S 15-YEAR JOURNEY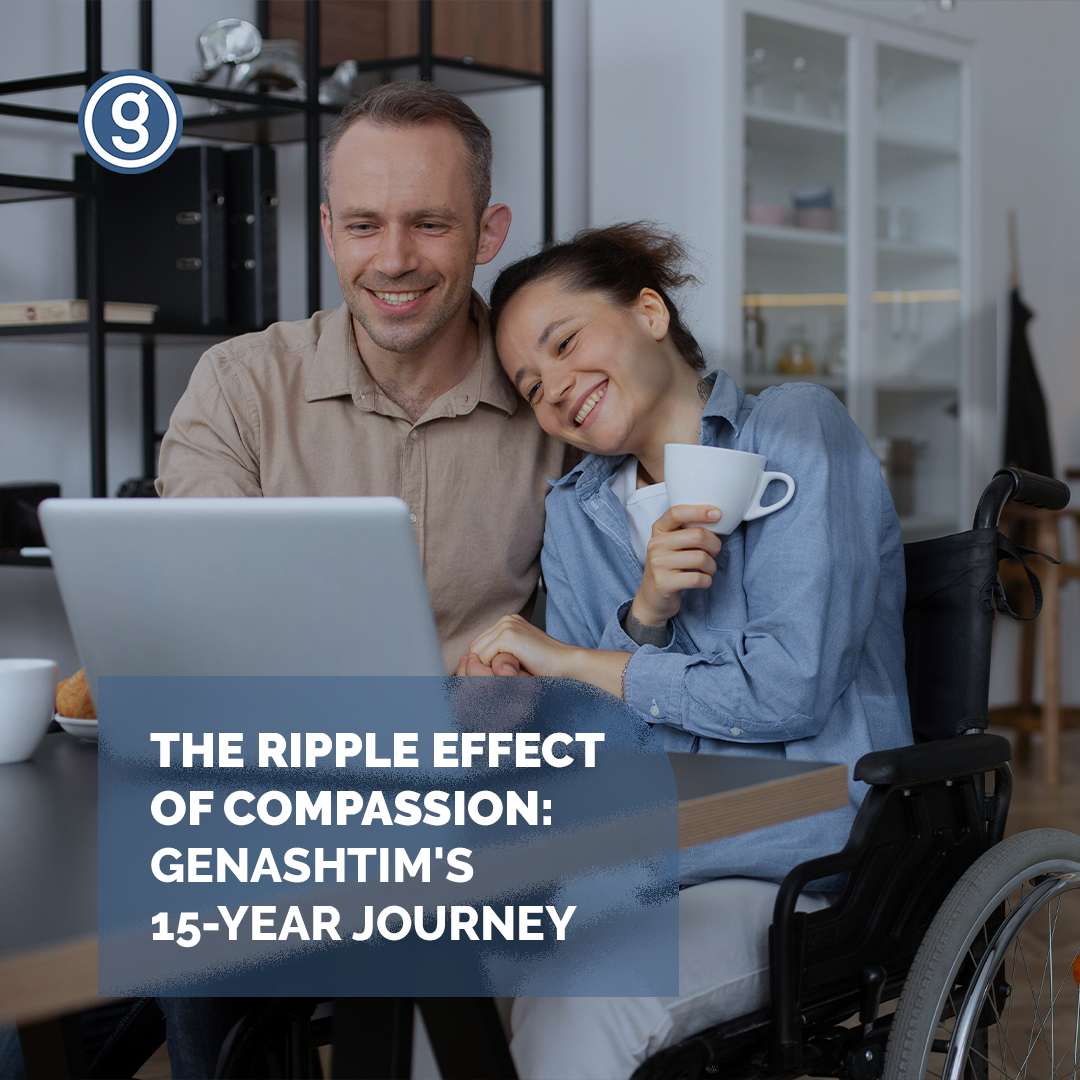 One person's unwavering determination has transformed into the realization of countless dreams. It all began with his resolute advocacy for equal employment opportunities for disadvantaged groups, giving birth to the revolutionary company we now recognize as Genashtim. 
The flap of a butterfly's wings in Brazil can set off a tornado in Texas. This phenomenon referred to as the butterfly effect serves as a powerful metaphor for the unpredictable yet transformative nature of life's small actions and decisions. Just as the gentle movement of a butterfly's wings can lead to a mighty storm thousands of miles away, our seemingly insignificant choices can reverberate over time, altering the course of our lives and the lives of those around us. 
In the grand tapestry of life, every step we take and every decision we make have the potential to create a profound ripple effect. It's a concept that encapsulates the essence of Thomas's journey and the birth of Genashtim, a for-profit social enterprise whose title was derived from the names of his family members. Little did he know that the seeds he planted during his one-year garden leave would grow into an enterprise that would touch countless lives. 
It was the year 2004 when Thomas Ng found himself serving on the board of directors of a school for the visually impaired. Witnessing the blind students' incredible talents and skills filled him with hope and optimism about their future. He believed in their potential and their ability to contribute to society. However, as he ventured into the corporate world, seeking employment opportunities for these talented individuals, he encountered a harsh reality – doors were shutting in his face. Companies were unwilling to take a chance on the blind despite their extraordinary capabilities. 
It was at this critical juncture, faced with a daunting challenge and a seemingly insurmountable barrier, that Thomas made a decision that would set in motion a series of events as unpredictable and transformative as the flutter of a butterfly's wings. He resolved to fill the void himself, creating the opportunities the corporate world refused to provide. And so, Genashtim was born—with a mission to empower people with disabilities and transform their lives. 
In its early years, Genashtim began as an e-learning service provider, but it soon evolved far beyond those initial aspirations. What started as a humble endeavor to bridge the gap in employment opportunities for the disadvantaged blossomed into a remarkable organization that not only changed lives but also led the charge in advocating for inclusivity and sustainability. 
GENASHTIM SERVICES: 
Today, after fifteen years, Genashtim's services have expanded, evolving from e-learning to encompass remote IT assistance, recruitment support, and a significant partnership with Blab in the Southeast Asian region for the provision of B-Corp certification. 
Below is a brief overview of the services provided by Genashtim: 
E-learning: 
One of the initial products of Genashtim was EPiC Online, an online one-to-one English coaching program. EPiC, or English Proficiency in Conversation, aids learners in gaining fluency in the English language by having real-time conversations with professional coaches.  
Moreover, Genashtim is considered one of the pioneers of e-learning in the Asian region by initially starting as an agent of U21 Global, an online MBA program in 2004. Today, Genashtim is the only partner of e-Cornell in Asia. It provides certificate courses and programs in collaboration with e-Cornell and also provides local support based on time zones and local languages.  
Remote IT Support: 
Genashtim's IT department evolved into Abled Online after winning first place at the finals of the Universal Ventures Business Plan Contest (UVC) in Tokyo on 21st November 2010. UVC is a contest for projects by persons with disabilities (PWDs). Remaining true to its core vision, Genashtim reinforces the idea that people with disabilities can do anything if given the opportunity through Abled Online. Abled Online not only provides remote IT support within the company but also to global clients in resolving any technical issues with their PCs. Some of the services offered by Abled Online include: 
Repair & Maintenance

 

CCTV Services

 

Download & Installation of Application

 

VOIP Application Setup

 

Email Setup

 

Mobile Phone Support (Android and IOS)

 

Server Administration

 

Cybersecurity

 

Hardware Problems Diagnostics

 
Learning Digitalization: 
Genashtim's LearningD department, responsible for the creation of Learning Management Systems (LMS), started to extend its services to clients in 2015. Ever since, it has been able to establish Digital Training Management Systems for clients, enabling them to comprehensively oversee employee training, which encompasses various formats from classroom-based training to customized online and integrated online training. The services provided by LearningD encompass: 
Instructional design 

 

Storyboarding

 

Authorship

 

Hosting and management of collaborative e-learning initiatives

 
In 2019, LearningD successfully secured its first government tender, PUB Singapore. Since then, it has been able to serve numerous clients including DHL Logistics Singapore, the Malaysian Global Innovation Centre (MAGIC), the Singapore Business Federation, SkillsFuture Singapore, and the Singapore Tax Academy. 
Recruitment Support:
Another main service of Genashtim, Recruitment Support, was officially launched in January 2016 with ChapmanCG being the first client.  
The department recognizes the challenge of finding highly skilled professionals and subsequently provides a dedicated team capable of pinpointing exceptional talents. 
Genashtim's Recruitment Support division comprises an expert team who excel in delivering top-notch assistance to augment clients' recruitment efforts. They specialize in the meticulous analysis of profiles, database management, and implementing executive searches tailored to meet the unique needs of each client.  
ESG Services: 
Although Genashtim has instinctively followed ESG principles from its conception, the company's ESG department was formally created in 2020. As Genashtim is the driving force behind B Market Builder Southeast Asia, its ESG department's role is to actively promote the B Corp movement and provide valuable assistance to companies embarking on their own B Corp certification journey.  
Genashtim's trained Independent Verification Analysts (IVA) assist in the B Impact Assessment (BIA) by conducting a thorough appraisal of a company based on all the criteria that come under ESG, such as governance, workers' rights and well-being, environmental practices, and social impact initiatives.   
Conclusion: 
Genashtim recently celebrated its 15th anniversary. In all these years, it has become a champion for sustainable employment, demonstrating that inclusivity is not just a moral imperative but also a pathway to success. It has successfully shattered preconceived notions and prejudice about the limitations of disabled workers and showed the world what could be achieved when people are given equal opportunities to thrive.  
To sum it all up, Thomas's one-year garden leave, an unforeseeable period of reflection and redirection, sparked a series of events that defied prediction. Genashtim emerged as a testament to the transformative power of human compassion and determination. It stands as a beacon of hope and a reminder that every small action we take, every step we embark upon, can ripple through time and space, creating a better world for us all. So, this serves as an inspiring tale—a reminder that the flutter of a butterfly's wings can indeed set off tornadoes of positive change in our lives and the lives of others.