Inclusion Factory China Interviewed Genashtim's Staff Yap Kim Soon and Tan Ee Beng in Their Podcast Series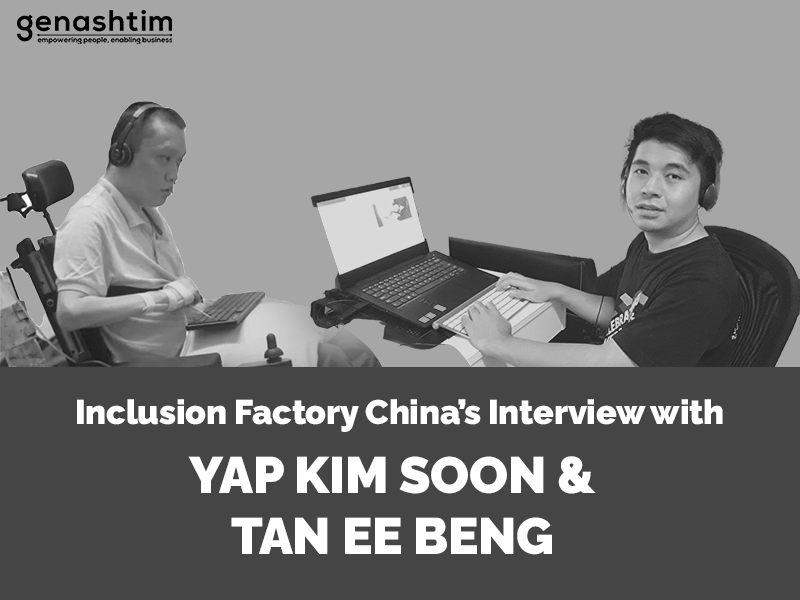 Inclusion Factory China, a social enterprise providing employment opportunities to People with Disabilities in China, interviewed Genashtim's staff Yap Kim Soon and Tan Ee Beng in their "不同TALK" (Different Talk) podcast series on 29 August 2022.  
The podcast series focuses on diversity and integrated topics related to People with Disabilities (PWDs) that allow people from various industries to share practical tips and work experiences on how to overcome physical barriers at work.  
In this podcast, Kim Soon and Ee Beng shared Genashtim's remote work model to provide disadvantaged communities, particularly PWDs, employment with a flexible working hours policy, to serve their clients globally. Kim Soon and Ee Beng agreed that by focusing on the employees' abilities, 'disability can become an ability', and we only sell professional services. 
Kim Soon, Genashtim's Sales and Business Development Manager, is quadriplegic due to a spinal cord injury from a car accident, while Ee Beng, ESG Services Manager, is partially blind from birth. 
Listen to the full podcast HERE!