Steps in Making Right Decision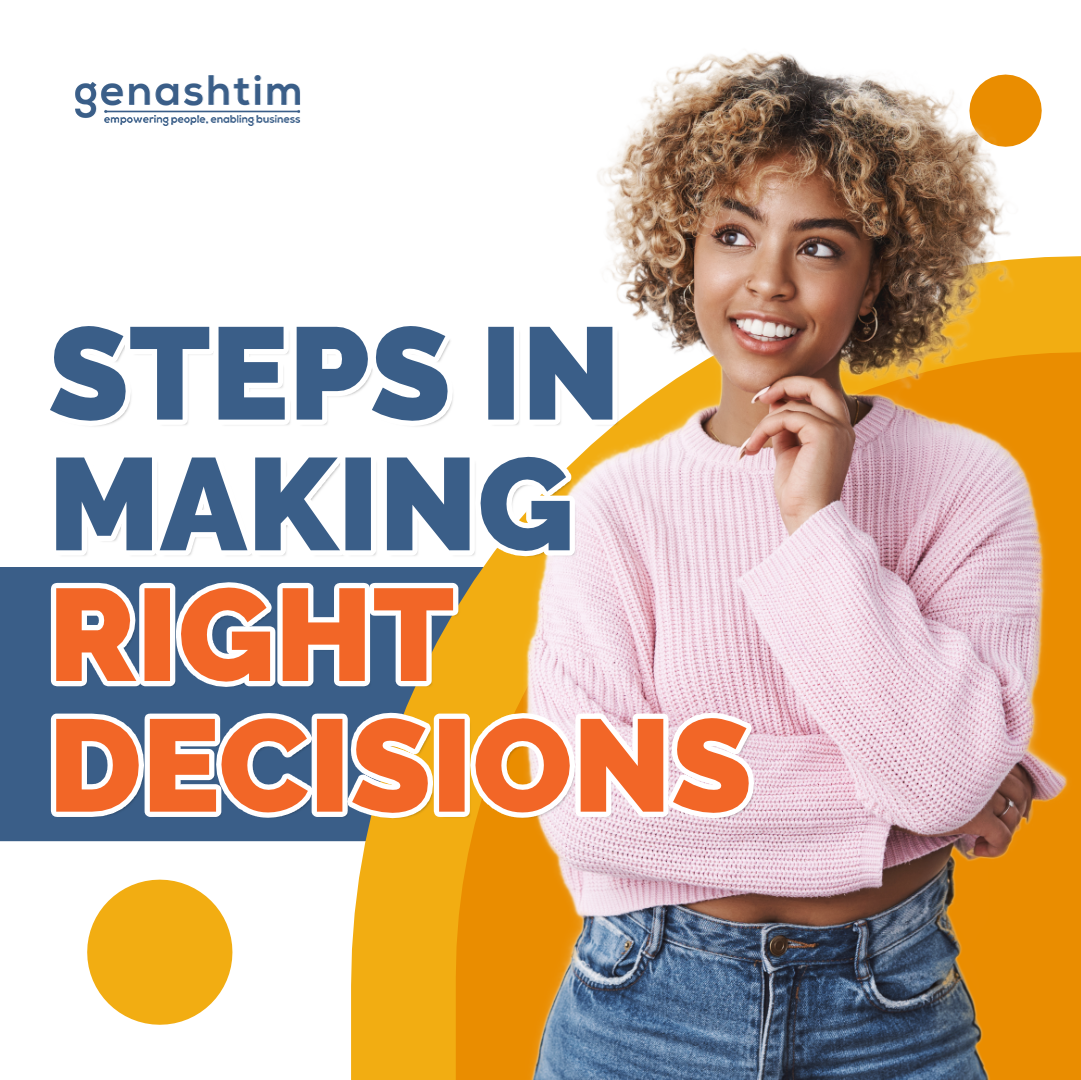 At work, most of the things we do always involve some sort of decision-making process. Thus, we should enhance our ability to make better decisions based on our past experiences and any newfound knowledge. We should then exert effort to learn how to make better decisions for ourselves, our future, and our workplace.
Making better decisions is important for a variety of reasons, including developing a stronger sense of self, learning from experiences, distinguishing ourselves from coworkers, increasing our confidence, and showcasing ourselves as professionals. However, there are some steps we can take for better decision-making.
Do Not Overthink
Every decision should be preceded by some thought as you weigh the pros, cons, consequences, and all available options, but overthinking can prolong the process of making a final decision. It's critical to be able to decide without spending too much time weighing options. Overthinking could lead you in taking a decision you would not normally make while it also causes you undue stress.
Overthinking increases the likelihood of introducing doubt into your decision-making process, which can become a pattern and influence future decisions. If you're having trouble making a decision, take a break and come back when your mind is clearer.
Remove Yourself from The Situation
By allowing yourself to rise above the situation to observe it, you can be a better decision-maker. You're more likely to objectively consider all of your alternatives and even be more open to considering compromises, which can be especially useful when your decision affects others. There are often a lot of emotions involved in the decision-making process, and removing yourself from the situation for even a short period can help you refocus and look at the facts in front of you.
Don't Feel Bad about Making Mistakes
Making mistakes and learning from them is one of the best ways to make better decisions. Making mistakes isn't always a bad thing because it can boost your confidence in your ability to make informed decisions for the future, based on your past experiences.
Consider the Opposite of Your Decision
Before committing to what you believe to be your final decision, make sure you've considered the complete opposite viewponts. It's important to be sure of your decisions, so by looking at other options, you can gain confidence that you're making the right choice or come up with new options that you hadn't considered before. When you challenge yourself, you are also challenging your long-held beliefs that may have influenced your previous decisions. Examining options allows you to make more informed decisions and develop better decision-making skills.
Ask for Any Feedback
When soliciting feedback during the decision-making process, you must strike a delicate balance with the different viewpoints. Some feedback can be extremely valuable, especially when it comes from people who have been in a similar situation and can tell you about their experience, or from people you admire for their experience and knowledge on a specific topic. It is also beneficial to solicit feedback from those who will be directly impacted by your decision, as they will be able to provide you with perspectives you may not have yet. However, receiving too much feedback can make your decision even more difficult by providing you with too many opposing viewpoints that you may find difficult to balance. Then, you must make a conscious effort to achieve a balance of all these points by aligning them with the goals you have set before making your decision.
Control Your Emotions
Emotions should be considered when making decisions, but it is also necessary to ensure that you are acting with emotional intelligence if you want to make better decisions. Just as asking for feedback requires a delicate balance, so does managing your emotions. Too much emotion can cloud your judgment and cause you to make decisions that you would not normally make.
This is true for both positive and negative emotions. For example, if you are overly enthusiastic about something, you don't want to make rash decisions based on your enthusiasm as things may not go as you expect them to in the long run.
Final Words
Making the right decisions necessitates serious effort, time, and more in-depth thought before arriving at a final solution. There are some steps that must be taken in order to make the best decision. Decision-making skills guide us in choosing the best solution, and by constantly practicing them in our daily work, we strengthen these skills and become better decision-maker