Genashtim Attends Star Energy Geothermal's Women in Leadership Certificate Awarding Ceremony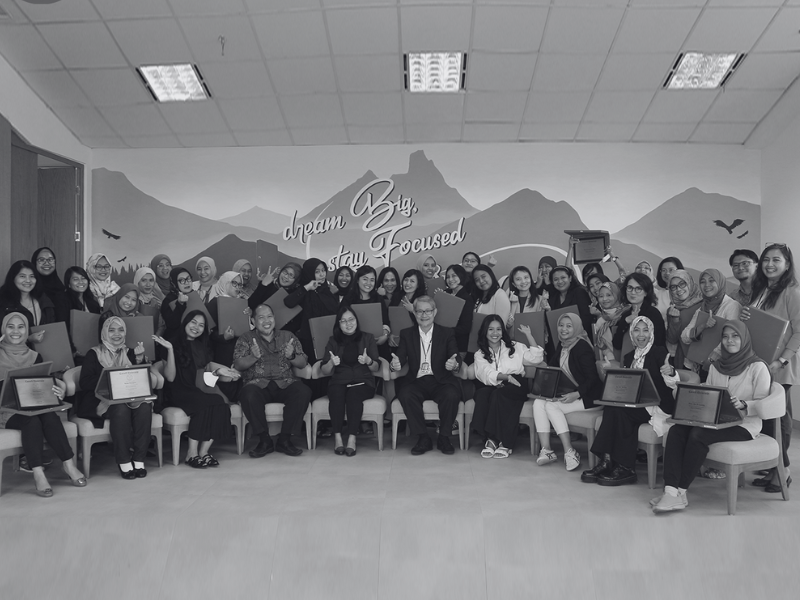 On 13 July 2023, Genashtim attended Star Energy Geothermal's (SEG) Women in Leadership Certificate Awarding ceremony held at Star Energy Geothermal's office at Wisma Barito Pacific II building, Jakarta. The ceremony was held to present certificates to the 45 SEG employees who successfully completed the second batch of the Women in Leadership Certificate program by eCornell. Aside from the 38 attendees from the second batch of the program, several representatives from Star Energy Geothermal headed by its CFO, Mrs. Merly, and the CEO and Founder of Genashtim, Thomas Ng, attended the joyous occasion.  
The event began with the presentation of the certificates to the participants in attendance. Afterwards, everyone enthusiastically posed for a group photo, proudly displaying their well-earned certificates. Following this, selected participants were given the chance to share their reflections on the program. Zilva Boaz, one of the participants, expressed her gratitude for how the program prepared her for leadership. She emphasized how the program helped her gain a deeper understanding of her leadership style and allowed her to learn from others' experiences. She applauded the program for its insightful content and the responsiveness of Genashtim and the lecturers in addressing participants' questions and concerns.  
Shortly after, Thomas took the stage and delivered a speech expressing his satisfaction with the remarkable success of the Women in Leadership Program, which has now expanded its reach to the Philippines, Malaysia, and Indonesia. He emphasized how the program, facilitated by eCornell, allowed for personalized learning experiences and meaningful interactions among the participants, thanks to its small-scale operations.  
Mrs. Merly's speech soon followed to empower the participants, all of whom were SEG's female employees. Her message encouraged them to continue learning and improving their leadership skills moving forward.  
The collaboration between Genashtim and SEG in the Women in Leadership Program reinforced their shared commitment to empowering and developing female leaders in the workplace.  
The program was conducted in two batches. The first batch, consisting of 31 participants, ran from 2021 to 2022, while the second batch took place from October 2022 to April 2023.