SHAPING THE FUTURE: EMBRACING ESG FOR A SUSTAINABLE TOMORROW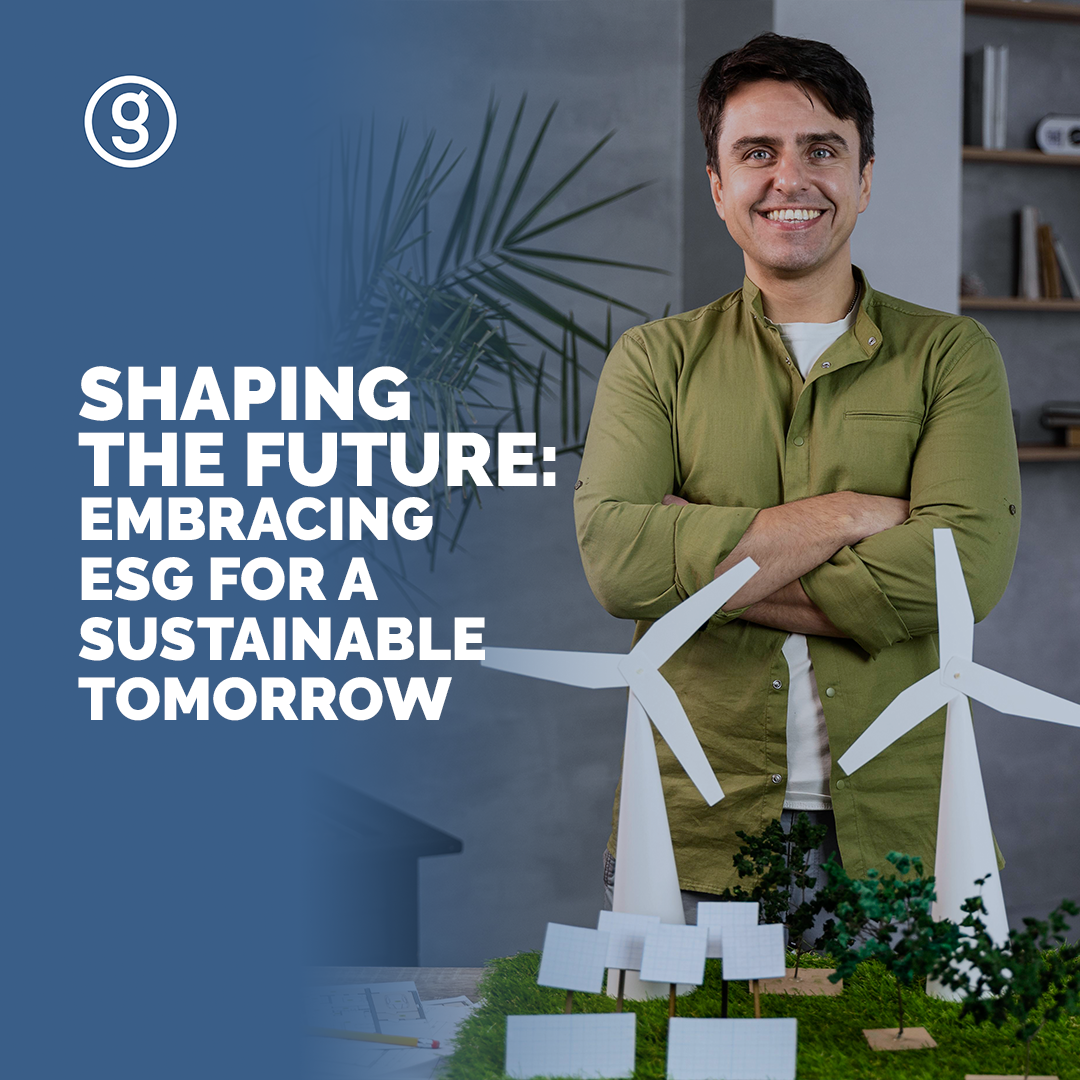 Explore ESG factors that are transforming the landscape of responsible business practices. Let's delve deep into ESG's meaning, significance, and impact on our future. 
In a constantly evolving world, our every action has the potential to shape the destiny of future generations. As a result, sustainability and responsible business practices as well as investment have become urgent priorities with each passing day. The prevalent word we hear to address the issue these days is "ESG" – an acronym that stands for Environmental, Social, and Governance. However, many struggle to comprehend its meaning, significance, and implications for our future. 
To grasp a better understanding of ESG and its implications, we must explore the realm of ESG investing. ESG investing is a powerful movement that goes beyond mere profit-making. It covers a set of criteria that evaluates companies not only on their financial performance but also on their dedication to sustainability, social responsibility, and sound governance practices. In essence, it seeks to align investments with personal values, making the world a better place while still generating attractive returns. 
Environmental, Social, and Governance (ESG) are the three key pillars that form the foundation of ESG investing. Each pillar represents a distinct aspect of a company's operations and practices, allowing investors to evaluate its commitment to sustainability, social responsibility, and sound governance. Let's explore each pillar in more detail. 
Environmental (E):
The environmental aspect of ESG focuses on a company's impact on the natural world. It evaluates an organization's awareness of the environment, its stance regarding climate change, and how it promotes sustainable practices. Key factors considered under the environmental pillar include: 
Carbon

footprint:

 

This measures the company's greenhouse gas emissions, energy usage, and efforts to mitigate climate change. This can be achieved by adopting renewable energy sources, improving energy efficiency, or implementing carbon offset programs. 
Resource

conservation:

 

Under this criterion, a company is evaluated based on its approach to managing and conserving natural resources such as water, forests, and minerals. It also involves factors like waste management, recycling initiatives, and sustainable sourcing practices. 
Biodiversity and ecosystem

impact:

 

This aspect considers the company's efforts to protect and preserve biodiversity, including initiatives to minimize habitat destruction, support conservation programs, and alleviate any negative impacts on ecosystems. 

 
Social (S):
The social aspect of ESG examines a company's relationship with its employees, customers, communities, and other stakeholders. It focuses on how the company manages its social responsibilities and contributes positively to society. Key factors considered under the social pillar include: 
Human rights and labor

practices:

 

This factor includes a company's commitment to upholding human rights, fair labor practices, and providing a safe and inclusive work environment. It also addresses issues such as diversity and inclusion, employee welfare, fair wages, and ethical labor standards like safe working conditions and child labor prevention within the supply chain. 
Community

engagement:

 

Community engagement examines the company's involvement in local communities, philanthropic initiatives, and contributions to social causes. It evaluates a company based on its activities regarding the well-being and development of the communities wherein it operates. 
Customer satisfaction and product

safety:

 

This criterion considers the company's commitment to customer satisfaction, product quality, and safety standards. Factors such as customer relations, data privacy and protection, product safety testing, and responsible marketing practices are also evaluated. 

 
Governance (G):
The governance aspect of ESG assesses the internal structures and practices of a company, including its leadership, decision-making processes, and adherence to ethical principles. Key factors considered under the governance pillar include: 
Board composition and

structure:

 

The evaluation is based on the composition of the company's board of directors, including their liberty, diversity, and expertise. It also examines the board's role in setting strategic goals, overseeing management, and ensuring accountability. 
Ethics and

transparency:

 

A company's ethical standards, code of conduct, and transparency in financial reporting are examined under this aspect. This factor assesses if mechanisms are in place to prevent corruption, conflicts of interest, and unethical practices. 
Executive compensation and shareholder

rights:

 

This criterion focuses on how executive compensation is determined, ensuring it is aligned with company performance and shareholder interests. It also examines the company's respect for shareholders' rights and their ability to influence decision-making. 

With ESG's rising awareness among businesses, companies can no longer depend on sellable products alone to succeed; they need a purpose and cause to appeal to the masses. As a result, ESG becomes an initiative to serve and benefit the local community and provide a global approach to environmental sustainability. Subsequently, smart business leaders understand and assume the responsibility to make changes for the betterment of the world. Companies now can strengthen their credibility with investors and the public through ESG certification.  

ESG certification is an independent verification system that demonstrates a company's compliance with essential sustainability initiatives, indicating its transformation into a sustainable business. ESG encompasses both a corporate governance and investment framework. By adopting ESG principles, companies integrate environmental, social, and governance considerations into their vision, mission, strategy, and values. ESG certification provides a standardized framework to measure and communicate a company's commitment to sustainability and responsible business practices. 
B-Lab and B Corp certification: Meaning and Significance
By evaluating and examining a company's ESG practices, investors gain a holistic understanding of a company's commitment to sustainability, social responsibility, and ethical business practices. This comprehensive evaluation enables them to make informed investment decisions that align with their values and contribute to a more sustainable and equitable future. 
B-Lab is one of the non-profit organizations in the world that performs these evaluations and provides certification to companies that adhere to the high standards of ESG. Upon meeting the B Impact Assessment (BIA) criteria, companies are recognized as Certified B Corporations or B Corps. B in B Corp, standing for "Benefit for All", demonstrates that B Lab's certification serves as a trusted mark of excellence and demonstrates a company's commitment to using business as a force for good. 
The B Lab certification involves a rigorous process of assessing a company's impact on its stakeholders, including workers, communities, customers, and the environment.  
According to B-Lab, the companies applying for B Corp certifications must fulfill the following criteria to achieve their certification: 
Exhibit exceptional social and environmental performance and achieve a B Impact Assessment score of 80 or above and pass the risk review.

 

Guarantee a legal commitment by updating their corporate governance structure and being accountable to all stakeholders, not just shareholders. 

 

Be transparent by allowing information about their performance measured against B Lab's standards to be publicly available on their B Corp profile on B Lab's website.  

 
Genashtim Pte Ltd, the second company in Southeast Asia to receive the B Corp certification, is the regional representative of B-Lab. It provides guidance and support to companies trying to get B Corp certification. It assists in B Impact Assessment (BIA) with the help of its trained Independent Verification Analysts (IVA) to conduct a thorough assessment to evaluate a company based on all the criteria that come under ESG, such as its governance, workers' rights and well-being, environmental practices, and social impact initiatives.  
To know more about Genashtim's ESG journey and its ESG services do not forget to check our next month's issue for more information.  
In conclusion
The Earth is the only planet that can support life and our existence depends on the survival of this planet. Therefore, we must act fast and strive to make responsible decisions regarding environmental preservation and climate change.   
Now more than ever, it is crucial for us to accept accountability for our actions and proactively take steps to safeguard our planet and facilitate its healing. By complying with ESG rules, we can ensure the survival of our planet and take more ethical and moral solutions for the betterment and elevation of our society.  
You can also join the ESG movement and become an Independent Verification Analyst (IVA) by applying at JEDI Jobs, a remote job portal powered by Genashtim. Register now and embark on your remote work career in ESG.