GENASHTIM'S UNIQUE WORKFORCE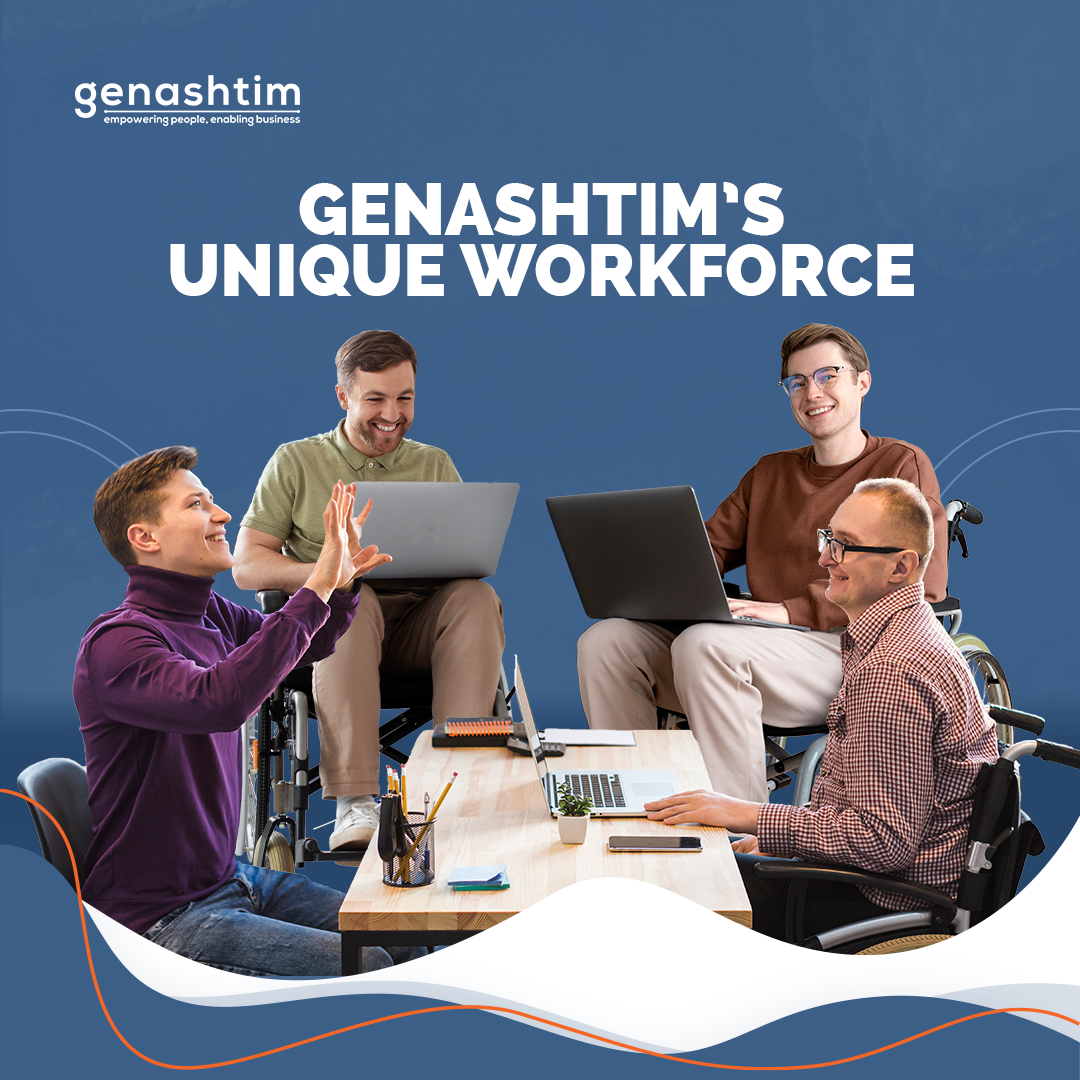 The advent of digital technology and the internet have helped many humanitarian causes around the world. This age of "wokeness" not only ensures that governments and businesses around the world refrain from unethical practices but has provided opportunities to address some glaring issues like discrimination, racism, and climate crisis that were swept under the rug before. 
Governments and businesses around the world have started striving to become more diverse and inclusive and make environmentally sustainable choices.  
Despite conscious efforts from organizations, businesses, and the government major social concerns are far from being solved. Discrimination at workplaces is one such concern that needs immediate addressing. Even in 2023, people from marginalized groups are denied work based on their race, gender, sexual orientation, and disability.  
People with disability (PWD) remain one of the biggest disadvantaged groups with 80% to 90% of PWDs of working age being unemployed in developing countries, according to the United Nations.  
Thomas Ng, the founder of Genashtim realized the disparity in the job market between abled-bodied and PWD employees when he worked on recruiting the latter. To his dismay, out of ten thousand recruits from Manila, Philippines, only one person with a disability was hired. After two years of constant struggles to get PWDs gainfully employed, Thomas realized that it was only possible if he takes the initiative himself.  
Thus, that is how Genashtim came into existence, a social organization that predominantly employs people with disabilities. Genashtim's mission is to leverage technology to connect marginalized communities to the global economy. Staying true to its mission, 90% of Genashtim's workforce consists of people belonging to marginalized communities that include people with disabilities, refugees, women in oppressed environments, LGBTQIA+, and retired senior citizens.  
This immensely diversified workforce became Genashtim's strength and the reason for its tremendous success. Genashtim employees are comparatively more compassionate and empathic and as a result, more understanding and accommodating. This understanding facilitates a workplace that doesn't discriminate against "others".  
The stories of Genashtim employees demonstrate strength, determination, and perseverance in face of hardship. They all have their own unique struggles, but it makes them blend in perfect harmony.   
People With Disabilities:
Genashtim came into existence when the founder of the company, Thomas Ng, saw an overwhelming need to get talented and skilled PWDs employed. When his efforts to make other companies realize this forgotten workforce's potential did not come to fruition, he decided to take the initiative himself.  
Therefore, more than 50% of Genashtim employees organically comprise people with disabilities. Keep in mind that Genashtim is a for-profit organization where all employees are competent, skilled, and efficient, and the PWD staff have helped to significantly increase the company's profit over the years. Most of the clients are not even aware that the person they were dealing with is a person with a disability which further proves the point that if we look past our prejudices, we will be able to see an immense and surprising talent that is untapped.  
When I first interviewed for Genashtim, the HR representative who spoke to me and facilitated the interview was Mariecell Fornis-Esguerra. She handled the whole hiring process remarkably and professionally. It was some months later that I discovered through a documentary that Mariecell is fully blind.  
Tragedy struck young Mariecell's life when she got in a car accident a month before her university graduation. All her dreams and hopes were shattered when she lost her eyes due to the accident. The accident, however, did not diminish her spirit and determination to pursue a career. After getting discharged from the hospital, she started to learn braille. She applied to numerous companies but didn't succeed to get a job. She took multiple computer courses and started a freelance job as a transcriptionist, but she wasn't satisfied as it was below her caliber, and there wasn't much room for career advancement. So, when she landed a virtual secretary job at Genashtim after hearing about the company from a friend, she was overjoyed. Soon after, she was promoted to the position of HR manager based on her competence and efficiency.  
Mariecell is now thriving at Genashtim along with other PWD colleagues who contribute to Genashtim's success. Genashtim has several PWD employees who are wheelchair users, visually or hearing impaired and some are even on life support. These PWD employees of Genashtim prove that other companies have overlooked a huge pool of talent because of their biases and prejudices.  
Refugees at Genashtim:
Genashtim currently employs several Middle Eastern refugees who are not allowed to work otherwise due to their refugee status. The social organization came as a ray of hope for these refugees to earn respectable incomes to support their families.  
These refugees belong to different countries and are either escaping war or persecution based on their religious, sexual, or ethnic identities. They are living in countries like Indonesia, Turkey, Iran, etc. while waiting to be resettled in another country. Their living conditions are hard as they are not allowed to work in their host countries and mostly rely on allowances sent by loved ones back home. The fact that they must rely on family members who are also struggling is another cause of agitation and helplessness for them.  
Most of them have eerily similar stories: running from home and hiding while being persecuted for who they are. Even in the relative safety of these countries that have given them refuge, they still do not feel safe and many are reluctant to share their real names and their stories.  
Genashtim has taken the initiative to hire these refugees who are struggling to make ends meet. Currently, Genashtim employs multiple refugees staying in different countries who work in various departments like IT, Creative, Design, and Marketing to name a few.  
Marginalized Communities at Genashtim 
Other than the two main marginalized groups of PWDs and refugees, Genashtim also strives to employ other marginalized groups. This includes women in oppressed environments, retirees, LGBTQIA+, and people living with HIV and AIDS (PLWHA). 
Currently, Genashtim employs women from countries like Afghanistan because they are not allowed to work in their country. 
I am also working at Genashtim because of the place of my origin and my upbringing. I belong to a conservative tribal community where women are highly discouraged to work in favor of taking care of the home and family. Despite having a university education, I never had a proper job because I got married right after my graduation. In addition to that, working was also not possible for me because of the law-and-order situation in our country as we belong to a persecuted community.  
When my marriage reached a breaking point, I was in despair as I was completely dependent on my husband financially. One day, I submitted an application to Genashtim HR inquiring if there was a job opening, without any expectation of a reply. To my surprise, I received an invitation for an interview following which I was hired as course administrator and reviewer. Having a remote job during the turmoil of my separation was a Godsend, as I still had a job whilst moving houses or cities because of my unstable living conditions. The financial stability also gave me the courage to finally walk out of a toxic relationship. 
Similarly, there are senior citizens currently employed at Genashtim who work from the comfort of their homes and continue to be productive even after their retirement. The members of the LGBTQIA+ community also feel at ease working at Genashtim without fear of being discriminated against or persecuted.  
Genashtim Family: A Safe Place
Genashtim is filled with remarkable stories of individuals from marginalized communities who have gathered to make a constellation that shines with mutual trust, respect, and understanding. The fact that everyone is struggling with their own battles makes Genashtim a safe haven, a place of respite where there is no judgment.