Episode 7: Building A Global ESG Community in Action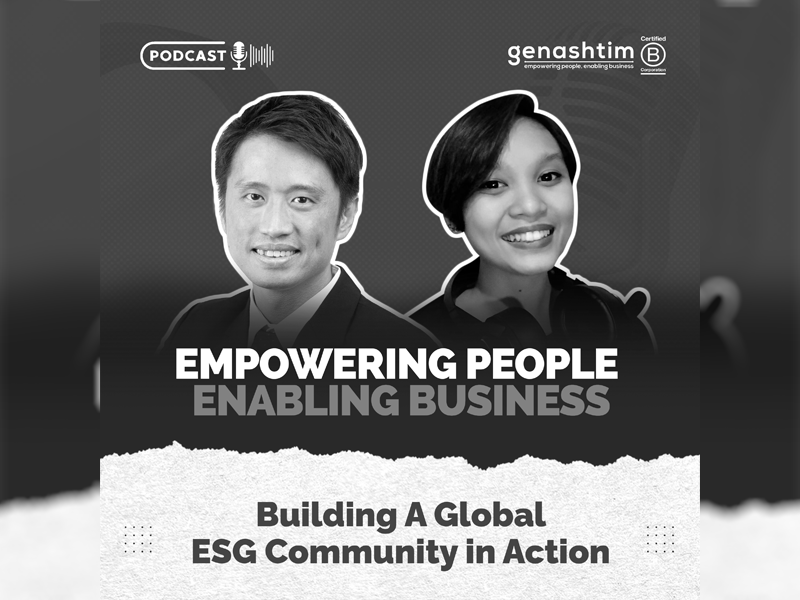 On our 7th podcast episode, join host Red Pioquinto as she explores the ESG revolution with guest Presley Tan, Executive Director of the ESG Business Institute. Discover how ESG is reshaping the world of business for the better. 
In a world where sustainability and corporate responsibility are no longer mere buzzwords but essential facets of business success, Genashtim's 7th podcast episode takes us on an enlightening journey. Hosted by the brilliant Red Pioquinto, this episode features a remarkable guest, Presley Tan, the Executive Director of the ESG Business Institute. The institute is more than just an organization; it's a global community of 300 members spanning 30 countries, working tirelessly to bring about meaningful change. 
ESG has transformed from a niche concept into a global imperative. With his extensive expertise, Presley brings to life the profound significance of ESG in today's business landscape. His passion for sustainability is contagious, and he leaves listeners with a newfound appreciation for the power of ESG in driving responsible and profitable business practices. 
Know more about what sets the ESG Business Institute apart from other ESG platforms – its global reach and collaborative spirit. Presley proudly shares how the institute harnesses the collective power of its worldwide community to tackle universal ESG challenges by empowering its members to integrate sustainability into their core business strategies through a range of comprehensive services, including ESG training, consulting, and networking. Furthermore, the ESG Business Institute advocates for responsible business practices and measures the impact of businesses as a FORCE FOR GOOD, demonstrating that profitability and sustainability can go hand in hand. 
Tune in to this remarkable podcast episode and be inspired by the potential of ESG to empower people and enable businesses. Get valuable insights about ESG and the ESG Business Institute to help us in our journey towards a more sustainable and responsible future.