"Empowering People, Enabling Business" Podcast Episode 2 – Always On: The Technical Lifeline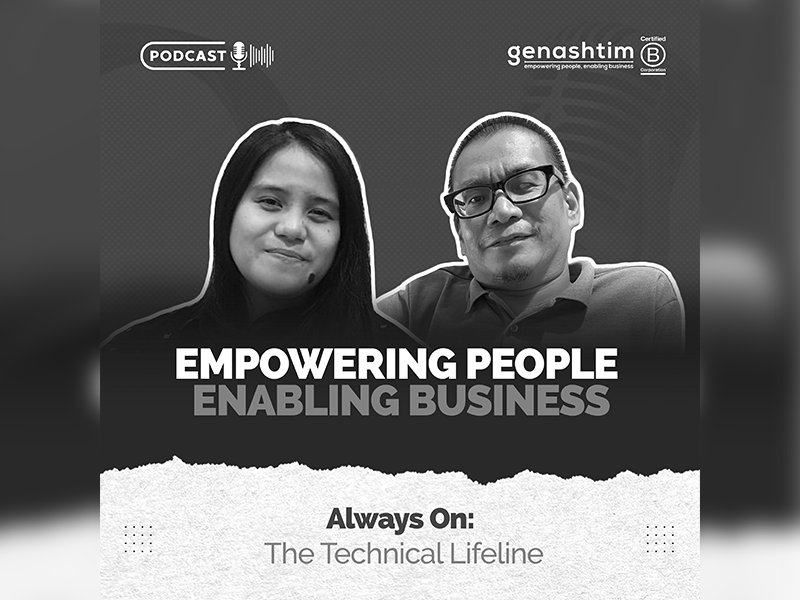 Join host Amalina Hares on a journey through the fascinating world of digitalization. Prepare to explore digital technology's cutting-edge innovations, latest trends, and limitless possibilities with Genashtim's CTO, Ryan Allegado as he shares his knowledge and experience about the impacts of digitalization on both businesses and individuals in this second podcast episode. 
When you combine technology and remote work, there are limitless opportunities for people, work and businesses. In the second episode of the "Empowering People, Enabling Business" podcast, Genashtim's Chief Technical Officer (CTO) Ryan Allegado, takes you on the evolving journey of Genashtim's growth using technology to transform the way we work!  With podcast host Amalina Hares, they explore the limitless possibilities of digital technology, from its early beginnings to today's cutting-edge innovations. 
As one of the pioneers of remote work in Genashtim, Ryan shares how the company has leveraged the power of technology to stay ahead in the game with its innovative approach to business. This episode promises a thought-provoking and engaging conversation, providing insights into how technology and digitalization can empower people and businesses alike on the global front. 
Dive into the world of digital technology with Ryan and Amalina and discover the exciting transformation that it has to offer!