Blind Heroes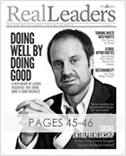 An article about how Thomas Ng made Genashtim a stronger business by engaging persons with disabilities. Printed in "Real Leaders" magazine. a bi-annual publication aimed at a new breed of leader. A leader who looks beyond the narrow confines of their business and geographical location, acknowledging that the world needs a fresh approach to people and profits in order to thrive, ensuring a sustainable future for our planet.
Real Leaders magazine targets the 20,000 most influential business minds in the world today – striving to lead by example.
Read the article here.